Our Solution
Home Solar Systems
SOLAR ROOF TOP POWER PLANT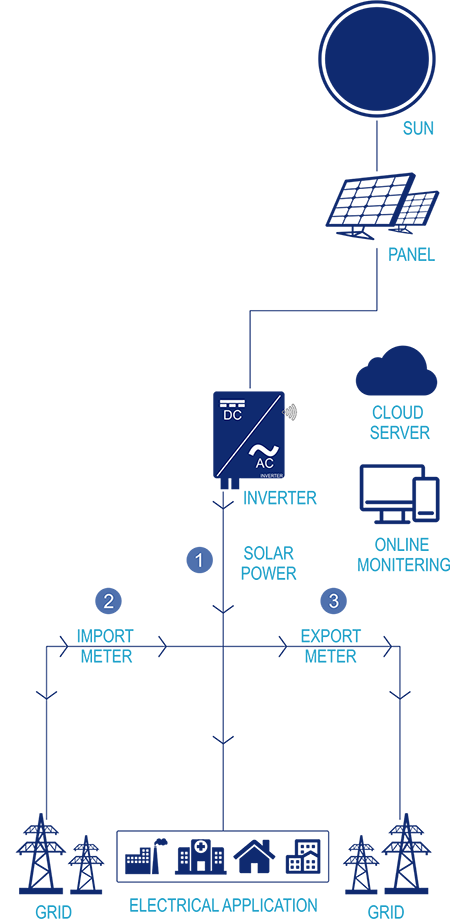 SOLAR ROOF TOP POWER PLANT

Gujarat Government has announced subsidy on purchase of solar roof top system for domestic purpose as in circular no. GR No. SLR-11/2015/401/B dated 31/03/2016. Under this scheme one lack houses will be covered and details of this scheme is as under.
Any of customer belongs to DISCOM will be able to installed solar roof top on his/her home.
Under this scheme Gujarat Government will provide subsidy of 10,000/- Per 1 kw and will be 20,000 maximum as per rest of kw. For the same central Government will provide 20,700/-(30%) subsidy for per kw.
Beneficiary can install 1 kw solar roof top plant by paying 38,300/- approx (+ registration fee of GEDA & DISCOM + Net metering + fitting), Actually this plant is coasting around 69,000 and reduced up to 38,300 because of subsidy one have.
Per 1 kw customer will gain 240 units on one bill cycle which is of two month and as per current changes customer can save 1500/-.
After using electricity which is spared and which is given to electric board through net metering will be credited to customers account in second month's bill.
DISCOM is informed by GEDA after registration beneficiary has to submit all required documents after wands as asked by DISCOM. These documents has to be presented to registered solar roof top solar by GEDA upcoming procedures has to be carryon as per DISCOM's guideline.
Beneficiary is allow to start system only after agreement is done with DISCOM.
Representative from GEDA is checking system B working or net and after wands amount of subsidy if given to manufacturer or to agency.
let's install solar power plant of 1 kw of only 38,300/- (including GEDA'S registration fees and Net metering charges) which is actually of 69,000/-
Net metering means, assume you are using 240 units per month and you have installed 1 kw of solar power plant. Solar power plant will produce 120 units / months and you have to pay bill of only 120 units. (240-120 = 120 units) Whatever amount you are saving through net metering will help to manage 38,300/- rupees within 4 to 5 years. While shall life 7 power plant is of 25 years.
So, let's install solar power plant and be green person and help our city to reduce level of carbon.
How to Go Solar
Our Process
Site Survey Our trained surveyors will ask you some basic questions (like any special requirements budget),obtain some preliminary information (like your electricity bills and survey your roof )
System Optimization Our experts will design an optimized rooftop solar PV system for your specific needs based on your available 'shadow-free' roof space, electricity requirement, budget, maximum return on investment and any other specific requirement
Proposal We will give you a techno-commercial proposal clearly recommending what fits you best and explaining the technology offered, capacity of the rooftop PV system, cost, short-term and long-term performance, savings and payback, specifications, guarantees and other terms.
Statutory Approvals Once you give us the green signal to go ahead we will prepare the necessary technical documents for statutory approvals and get them approved from the state nodal agencies, electrical inspector and your distribution company
Detail Design Immediately after receiving the approvals, our design team will swing in action to design your rooftop PV system to the last detail.
System Installation Once the system is designed, our Certified Installers will install the system, after which our internal inspection team will check it to ensure that we deliver the quality we promise.
Commissioning Once we are convinced that your system is ready, we will intimate the distribution company to come over and commission the plant so that it can start operation.
Comprehensive Maintenance Once the system is operational and if you have signed a maintenance contract with us, our maintenance engineer will visit you regularly to carry out his job. Meanwhile, if you feel that something is not working well, just give us a call.
Techsun Advantage
"We take your responsibility, so you don't have to worry."
Remember, no two solar PV systems are the same. They might look the same. Initially, they might even give similar outputs. However, it is only evident in the long-term if the engineering, material quality and workmanship were done correctly.
Expert Engineering Techsun invests heavily in its human resources, thus creating a strong engineering and technology team. Each supplier, technology, component and design is thoroughly verified before deploying into the field.



Quality Management Process As we source various components from various locations, and also integrate them into installations that are distributed over a wide geography, we follow stringent quality processes resulting in a successful track record.



Research and Innovation We are constantly researching and testing newer solutions, monitoring our performance so that we can constantly strive towards giving a better and cost-effective solution to our customers.



Ethical Backbone Solar is the need of the hour whether for the environment, self-reliance or energy security. We believe that our job is extremely important to secure our future, and hence, we are driven to promote this noble technology and secure humanity.



Empanelment Techsunsolar is empanelled as a Channel Partner of Gujarat Energy Development Agency (geda ) for supply installation and commissioning of rooftop solar PV systems in the State of Gujarat.